Van Buick GMC is moved to be the premier supplier for the GMC Terrain in Arizona. Van Buick GMC is a Phoenix GMC dealership and carries a colossal inventory of high value used GMC Terrains and other cars & trucks.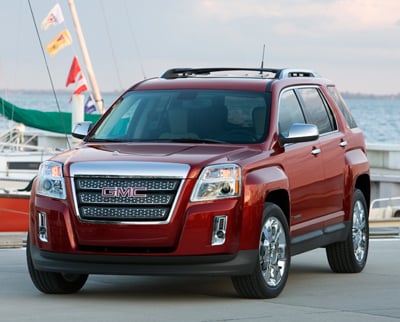 When consumers compare the GMC Terrain to other makes like the Toyota RAV4, Ford Edge, and Honda CR-V, the 2012 GMC Terrain shines as the most fun-to-drive. Starting with the 2011 GMC Terrain, owners found this affordable SUV's crisp handling and lively acceleration to be reason enough to choose.
You'll fall for the GMC Terrain affordable compact suv when you browse Van Buick GMC in Phoenix
Although it is only in its second year of production, the 2011 GMC Terrain SUV is already crushing its competitors. This second-generation crossover beat out vehicles like the Toyota RAV4, Ford Edge, and Honda CR-V, ranking as U.S. News & World Report's number one pick out of 23 vehicles in the affordable compact SUV category. In a U.S. News GMC Terrain review, the authoritative publication also noted that the 2011 Terrain is more refined and car-like than any of its automotive contenders. With a low MSRP of $24,500, the Terrain is a terrific value. Van Buick GMC, a Scottsdale GMC dealer, carries a large inventory of this top-selling vehicle, along with quality pre-owned models of the GMC 2010 Terrain.
The Terrain was a force to be reckoned with right from the start. Just two years ago, the compact 2010 GMC SUV was introduced at the 2009 New York International Auto Show and received rave reviews. It served as a replacement for GM's Pontiac Torrent and Saturn Vue, and became the smallest crossover SUV offered by the company. The vehicle stood out with a sophisticated, bold design and terrific fuel economy. The GMC 2010 Terrain and this year's 2011 model are based on the Theta platform?the same platform used to build the discontinued Torrent. This affordable compact SUV is not only an excellent choice for families, it is also a great buy for single urbanites looking for an economical vehicle with a lot of style. Scottsdale car shoppers are sure to be impressed when they test-drive the new Terrain at Van Buick GMC.
In MarketWatch's GMC Terrain review, the publication states that "if you are in the market, you really ought to add this one to the top of your list." The Terrain is continuously praised for its bold styling and class-leading fuel efficiency. The remarkably stylish interior cabin has a high-tech navigation system, slick dashboard design, and a notably inviting backseat with a reclining rear bench.
The 2011 GMC Terrain SUV is available in four trim levels: the SLE-1, SLE-2, SLT-1, and SLT-2. Each comes standard with an Ecotec 2.4-liter four-cylinder engine that pumps out 182 horsepower and 172 pound-feet of torque. Van Buick GMC in Scottsdale offers the 2011 Terrain in beautiful colors like Espresso Brown, Carbon Black Metallic, Quicksilver Metallic, and Steel Blue Metallic. For a more intense power train, the SLE 2 and SLT 1 can be upgraded with an optional 3.0-liter V6 that generates 264 horsepower and 222 pound-feet of torque. All trims come standard with a six-speed transmission and front-wheel drive, along with an all-wheel drive option which is available on every trim.
The base SLE 1 trim is outfitted with a number of attractive standard features including: 17-inch alloy wheels, heated mirrors, a six-way adjustable driver seat, and cruise control. This GMC SUV from Van Buick GMC also includes several other features that Phoenix area car shoppers will love, including high-tech amenities like a rearview camera, auxiliary audio jack, satellite radio, and an auto-dimming rearview mirror.
Van Buick GMC also has a large selection of the SLE 2 trim for Scottsdale drivers to choose from. The SLE 2 continues where the base trim left off and adds Bluetooth®, automatic climate control, and an eight-speaker Pioneer sound system. Additionally, the trim includes upgraded cloth upholstery, a leather-wrapped steering wheel, and an available Convenience package which includes remote engine start and heated front seats.
The SLT 1 picks up all of the features included in the Convenience package, along with all of the 2011 Terrain's great standard features. The top-tier SLT 2 includes additional luxurious features like rear parking sensors, driver memory functions, and a power tailgate. On top of this, it is decorated with upgraded chrome exterior trim and a sunroof. Phoenix area drivers are welcome to come check out all four trim levels of the new 2011 Terrain at Van Buick GMC today!
Here's the reasons why the GMC Terrain ought to be your preferred affordable compact suv in fascinating AZ
Van Buick GMC offers the GMC Terrain, a 4-door SUV which seats 5 people comfortably. The Terrain weighs 4,034 pounds, is 185.3 inches long, 72.8 inches wide, 66.3 inches high, and the GMC Terrain's turning radius is 20 feet. substantially comfortable for its class, the Terrain has 39.8 inches of headroom in the front, as well as 41.2 inches of legroom. In the Terrain's back seat, there are 39.2 inches of headroom and 39.9 inches of legroom. Need to bring a lot of luggage on your next trip? The Terrain trunk holds up to 31.6 cubic feet of your equipment. So, take it easy and enjoy!
Standard GMC safety features included in the Terrain are: traction control, anti-lock brakes, side airbags, driver airbags, side-impact bars, seat-belt pre-tensioners, and passenger airbags. With all of these features, the GMC Terrain is always tremendously rated by the IIHS and NHTSA.
The Terrain also has an abundance of comfort and convenience features including: power steering, remote locks, power windows, power mirrors, climate control, cruise control, air conditioning, power seats, an adjustable steering wheel, and more! Especially convenient are the available hands-free phone and navigation systems. Test drive the GMC Terrain in Phoenix at Van Buick GMC.
Like all GMC cars & trucks, road handling and performance are top priorities for the Terrain. Passing horsepower in the base Terrain is 182hp @ 6,700RPM, and it produces excellent torque - 172 lb.-ft. @ 4,900RPM foot pounds/rpm. The Terrain accelerates briskly from 0 to 60 mph in just 8.5 seconds. If you want to go fast, the Terrain has a top speed of 118 miles per hour. Despite this excellent power train output, the GMC Terrain's fuel economy is rated at 22 miles per gallon in the city and 32 highway miles per gallon. With a fuel tank capacity of 18 gallons, the Terrain cruising range is well above average, truly making it a performance car!
The GMC manufacturer's warranty covers the Terrain for manufacturing defects and has a 3 Years / 36,000 miles GMC warranty. GMC has worked for years to minimize its environmental impact, and the Terrain's carbon footprint is rated very low. Not surprisingly, with all of these Terrain advantages, this great GMC SUV retains a high percentage of its value at 3 years and 36,000 miles, which makes the GMC Terrain a great used buy!
When seeking a safe, economical, sporty and stylish SUV, Scottsdale consumers should head to the GMC dealer of choice, Van Buick GMC at 8585 E Frank Lloyd Wright Blvd in Scottsdale AZ.
GMC Terrain service information for Phoenix
GMC Terrain owners and lessees in Phoenix have found that Van Buick GMC at 8585 E Frank Lloyd Wright Blvd in Scottsdale is the very best choice for Terrain warranty work, regular maintenance & inspections, and mechanical repairs. At Van Buick GMC, Certified GMC Technicians trained in the very latest diagnostic and corrective techniques work for only one thing - your complete satisfaction. Whether it's time for your GMC to have an oil change or tire rotation, or if you need regular Terrain Scheduled Maintenance, Van Buick GMC is your first choice. Wheel alignments are another specialty of our Certified GMC Techs, and here at 8585 E Frank Lloyd Wright Blvd, we are the smartest choice in Phoenix for quick, courteous, and professional GMC Service of all kinds.
If you'd like to make an appointment to have your Terrain serviced, click the link or just give us a call. See you soon.