Van Buick GMC is fired up to be the foremost point for the GMC Sierra 1500 in Arizona. Van Buick GMC is a Phoenix GMC dealership and carries a enormous inventory of GMC Sierra 1500 and top quality, high value used GMC Sierra 1500s and other cars & trucks.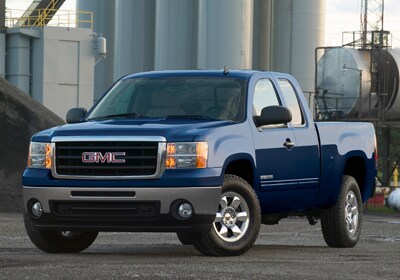 When shoppers compare the GMC Sierra 1500 to other makes like the Dodge Ram, Ford F-150, and Toyota Tundra, the 2012 GMC Sierra 1500 shines as the most fun-to-drive. Starting with the 2011 GMC Sierra 1500, owners found this affordable Truck's crisp handling and lively acceleration to be reason enough to choose.
You'll appreciate the GMC Sierra 1500 full size pickup truck when you browse Van Buick GMC in Phoenix
The GMC Sierra truck collection is definitely one of the most extensive lineups in the automotive industry. Available in many trim levels and with an astounding amount of customization options, the 2011 GMC Sierra 1500, Sierra 2500, and Sierra 3500 are magnificently versatile heavy-duty trucks that now boast a dash of flare thanks to the newly available Sierra Denali trim. This GMC truck series now combines work-horse functionality with terrific performance and a luxury feel. The GMC Sierra Denali introduces the brand's upscale styling elements and signature nameplate to the heavy-duty vehicle. Starting at a low MSRP of $20,850, the new GMC Sierra truck series is seriously tough competition for vehicles like the Dodge Ram, Ford F-150, and Toyota Tundra. As a top Scottsdale GMC dealer, Van Buick GMC has a large selection of new and used GMC trucks and SUVs. Visit out dealership today to find the new Sierra 1500, Sierra 2500, and Sierra 3500 in beautiful colors like Onyx Black, Mocha Steel Metallic, Woodland Green, and Fire Red.
The highly customizable 2011 GMC Sierra 1500 is one of the most adaptable full-size pickup trucks on the market. It impresses with a comfortable interior, top safety scores, intense powertrain options, and a level of fuel economy that is greater than many other vehicles in its category. For consumers interested in gaining even better fuel economy, there is also an available Sierra Hybrid truck. With many body style options, powerful V8 engine choices, and a long list of standard and available amenities, the GMC Sierra 1500 is an excellent vehicle option for Scottsdale drivers. Various trims of this GMC truck include features like: remote engine start, OnStar telematics, satellite radio, and power-adjustable heated seats. The Sierra 1500 from Van Buick GMC also includes an auxiliary audio jack, a premium Bose audio system, vinyl seat upholstery, and more. The Sierra Denali is a notable trim on the 1500 with added features including advanced suspension tuning, USB connectivity, and a distinctive powertrain.
The staunch 2011 GMC Sierra 2500 is a powerful heavy-duty truck with terrific hauling and towing capabilities. A multitude of new improvements have been incorporated for the new model year, including upgraded suspension components, a sturdy new boxed frame, and increased towing capacity. The Sierra 2500 from Van Buick GMC has a beefy 6.6-liter Duramax turbodiesel engine option with 397 horsepower and an amazing 765 pound-feet of torque. The best part is that even with this super turbocharged engine, the Sierra 2500 actually has improved fuel economy and lower emissions than last year's model. Various trims of this GMC truck include: dual-zone automatic climate control, heated exterior mirrors, remote engine start, Bluetooth, heated bucket seats, and an auto-dimming rearview mirror. The 2500 Sierra Denali is also a notable trim on this GMC truck model, adding features like rear parking sensors, skid plates, and an EZ-lift tailgate. Stop by our Scottsdale GMC dealership to get complete details about all available trims and their unique features.
GMC is well-known for their muscular, heavy-duty truck designs, and the new 2011 GMC Sierra 3500 is a prime example of this. Like the previous model, the 2011 Sierra 3500 also has tremendously increased towing and hauling power with the Duramax engine option?but even the standard 6.0-liter V8 engine gives this truck an incredible amount of power. These engine options are paired with a heavy-duty six-speed Allison 1000 transmission. When properly outfitted, this GMC Sierra truck can tow 17,000 pounds and haul 6,635 pounds. The Sierra 3500 is equipped with many of the same features as its brand partners, including a premium sound system, advanced climate control technology, heated mirrors and seats, and Bluetooth connectivity. And once again, the 3500 Sierra Denali adds another set of terrific features to the list. We welcome you to visit our Scottsdale GMC car dealership to check out the entire lineup of 2011 GMC Sierra trucks. Come in to find out about all of their customization options and available trim levels. Van Buick GMC also carries a stellar selection of other new and used GMC trucks and SUVs, as well as authentic GMC Sierra parts for current Sierra truck and SUV owners.
Here's why the GMC Sierra 1500 has earned the right to be your preferred full size pickup truck in fascinating AZ
Van Buick GMC offers the GMC Sierra 1500, a 4-door Truck which seats 6 people comfortably. The Sierra 1500 weighs 5,329 pounds, is 230.2 inches long, 80 inches wide, 73.7 inches high, and the GMC Sierra 1500's turning radius is 23.6 feet. highly comfortable for its class, the Sierra 1500 has 41.2 inches of headroom in the front, as well as 41.3 inches of legroom. In the Sierra 1500's back seat, there are 40.5 inches of headroom and 38.7 inches of legroom. Need to bring a lot of luggage on your next trip? The Sierra 1500 trunk holds up to Truck Bed cubic feet of your gear. So, sit back and have fun!
Standard GMC safety features included in the Sierra 1500 are: traction control, anti-lock brakes, side airbags, driver airbags, side-impact bars, seat-belt pre-tensioners, and passenger airbags. With all of these features, the GMC Sierra 1500 is always exceptionally rated by the IIHS and NHTSA.
The Sierra 1500 also has an abundance of comfort and convenience features including: power steering, remote locks, power windows, power mirrors, climate control, cruise control, air conditioning, power seats, an adjustable steering wheel, and more! Especially convenient are the available hands-free phone and navigation systems. Test drive the GMC Sierra 1500 in Phoenix at Van Buick GMC.
Like all GMC cars & trucks, road handling and performance are top priorities for the Sierra 1500. Passing horsepower in the base Sierra 1500 is 195hp @ 4,600RPM, and it produces excellent torque - 260 lb.-ft. @ 2,800RPM foot pounds/rpm. The Sierra 1500 accelerates rapidly from 0 to 60 mph in just 6.9 seconds. If you want to go fast, the Sierra 1500 has a top speed of 118 miles per hour. Despite this excellent power train output, the GMC Sierra 1500's fuel economy is rated at 15 miles per gallon in the city and 20 highway miles per gallon. With a fuel tank capacity of 26 gallons, the Sierra 1500 cruising range is well above average, truly making it a performance car!
The GMC manufacturer's warranty covers the Sierra 1500 for manufacturing defects and has a 3 Years / 36,000 miles GMC warranty. GMC has worked for years to minimize its environmental impact, and the Sierra 1500's carbon footprint is rated very low. Not surprisingly, with all of these Sierra 1500 advantages, this great GMC Truck retains a high percentage of its value at 3 years and 36,000 miles, which makes the GMC Sierra 1500 a great used buy!
When seeking a safe, economical, sporty and stylish Truck, Scottsdale shoppers should head to the GMC dealer of choice, Van Buick GMC at 8585 E Frank Lloyd Wright Blvd in Scottsdale AZ.
GMC Sierra 1500 service information for Phoenix
GMC Sierra 1500 owners and lessees in Phoenix have found that Van Buick GMC at 8585 E Frank Lloyd Wright Blvd in Scottsdale is the very best choice for Sierra 1500 warranty work, regular maintenance & inspections, and mechanical repairs. At Van Buick GMC, Certified GMC Technicians trained in the very latest diagnostic and corrective techniques work for only one thing - your complete satisfaction. Whether it's time for your GMC to have an oil change or tire rotation, or if you need regular Sierra 1500 Scheduled Maintenance, Van Buick GMC is your first choice. Wheel alignments are another specialty of our Certified GMC Techs, and here at 8585 E Frank Lloyd Wright Blvd, we are the smartest choice in Phoenix for quick, courteous, and professional GMC Service of all kinds.
If you'd like to make an appointment to have your Sierra 1500 serviced, click the link or just give us a call. See you soon.