Cascada Update from Scottsdale Buick Research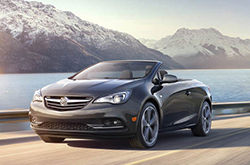 Built to perform, the 2016 Buick Cascada in Scottsdale is a premium choice for valley buyers seeking sporty style in an exclusive convertible frame. The Cascada, an all-new convertible model that made its bold debut this model year, utilizes the most up-to-date technologies, advanced chassis and sleek details to create a luxury convertible experience without compromises. Interested in Buick's all-new convertible? Check out our full 2016 Buick Cascada review now!
Convertible buyers will be pleased with the Cascada's aerodynamic design that was engineered exclusively for convertible capability with balanced proportions and an athletic silhouette. Not only does the back seat feature an electric rear-seat entry system so that passengers can enter easily, but the entire Cascada was crafted with premium interior materials to seat four comfortably. Perfect for breezy spring and fall days, the convertible's soft top can open in just 17 seconds at speeds up to 31 mph. It also delivers a cool, quiet ride when the top is up so that you'll never have to compromise when it comes to the coupe/convertible balance.
Under the hood, the Cascada utilizes a 1.6L four-cylinder and a six-speed automatic transmission, creating 200 horsepower and 221 lb-ft of torque as well as efficiency that is perfect for longer commutes. In addition to premium power, you'll especially be pleased with the impeccable ride thanks to a HiPer Strut front suspension system and advanced chassis technologies.
Described as a "comfortable, spacious and well-appointed convertible that won't break the bank" in Edmund's 2016 Buick Cascada review, the sporty convertible offers all the bells and whistles that luxury buyers in the Phoenix area seek. Between the innovative Buick IntelliLink 7-inch color touchscreen, Bluetooth phone connectivity software, 13.4 cubic feet of cargo space and built-in 4G LTE Wi-Fi hotspot, the Cascada is equipped with all of the technology you need to stay connected when on route. Plus, safety features like special rollover bars, airbags, lane departure warnings and a rearview camera promise peace of mind with every acceleration, sporty turn and casual ride through town.
Test drive the 2016 Buick Cascada in Scottsdale today to experience its luxury for yourself. With exceptional features, a daring road presence and plenty of power, the Cascada has proven it will be a worthy contender in the convertible segment for many years to come.