Phoenix Buick Dealer Reviews the 2015 Encore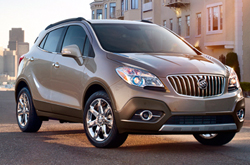 Versatility and luxury is what you can expect to find in the 2015 Buick Encore. The five-seater subcompact crossover features ample room throughout the cabin and offers sufficient cargo space for transporting items. In order to keep up with the modern world, the Encore also comes with an incredible collection of high-tech components that enhance the driving experience for all occupants. A fresh OnStar system has even been integrated into this year's model to build upon the crossover's offerings, giving drivers more features to utilize. If you want to learn about this program as well as other equipment options available in the Encore, read our 2015 Buick Encore review below for information.

For this model year, the Buick Encore arrives primarily unchanged aside from one new feature: OnStar with 4G LTE. The latest component comes with a built-in Wi-Fi hotspot and offers drivers and passengers the chance to stay virtually connected while on the road. Equipped with the fastest mobile data network available, OnStar's hotspot will be able to provide outstanding internet speeds and strong connections. New owners will even be able to take advantage of the system for the first three months for free, receiving 3GB. Following the trial, owners of the 2015 Buick Encore in Scottsdale will then have the opportunity to sign up for a full subscription to utilize the system whenever they choose, giving them around-the-clock access to its remarkable features.

Coming into 2015, the Buick Encore only offers one engine option for drivers: an Ecotec 1.4L turbocharged four-cylinder. It delivers 138 horsepower and 148 lb.-ft. of torque while working alongside a six-speed automatic transmission that helps deliver first-class fuel economy. Additionally, the engine outfitted within the 2015 Buick Encore in Scottsdale is supported by forged connecting rods and a reinforced crankshaft that benefit its power and torque, creating top-of-the-line performance.

Continue reading our 2015 Buick Encore review to find out more details about its engine specs along with additional information about its features.