Phoenix Buick Dealer Researches the New Enclave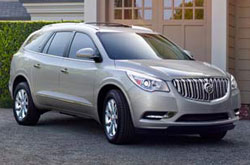 The 2015 Buick Enclave has arrived on the scene, and it's showcasing the same incredible performance, features and luxury that was found on last year's 2014 model. Boasting an efficient V-6 engine and an assortment of technological components, the 2015 model continues to meet customers' demands and exceed their expectations. For the new year, it also features a couple fresh additions that further increase its appeal. These include a collection of new exterior paint colors, and a heated wood steering wheel on Leather and Premium models. To learn more about these upgrades, read our 2015 Buick Enclave review below for exclusive details.

Due to its grand selection of remarkable features, the Buick Enclave makes its way onto the market for 2015 with just a few minor modifications. The first, and most prominent one, is the addition of four fresh colors: Dark Sapphire Blue Metallic, Midnight Amethyst Metallic, Dark Chocolate Metallic and Crimson Red Metallic, which significantly expand the exterior paint collection and give the Enclave a fresh appearance. Moving into the cabin, the 2015 Buick Enclave in Scottsdale also updates its interior color, offering a new Dark Plum tint. The fresh shade complements the SUV's sleek interior design and gives it a rich, luxurious look buyers will love.

Delivering 288 horsepower and 270 lb.-ft. of torque, the Buick Enclave's 3.6L V-6 engine is strong and proficient. It comes with direct-injection and continuously variable valve timing which supports its efficiency and allows it to produce excellent EPA ratings. Further contributing to its offerings, a six-speed automatic transmission is featured on the 2015 Buick Enclave in Scottsdale. It boosts the SUV's performance capabilities and keeps it running at optimal levels, benefiting drivers.

Do you want to find out more information about the Enclave? Continue browsing our 2015 Buick Enclave review for additional data and specifications.