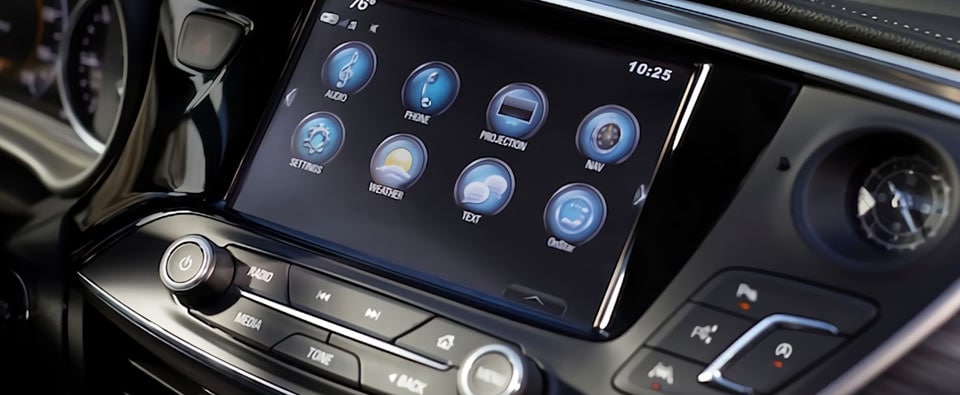 Stay Safe With Voice Recognition
Speaking directly to your vehicle was the imagination of science fiction writers only a short decade and a half ago, but now it's a full-blown reality that gives you the ability to communicate with your vehicle in a way that makes everyone safer. Instead of using your hands to push buttons and call your friends or family, now you can tell your Buick vehicle what to do by using the Voice Recognition feature. There are very simple commands to learn and a simple button to press on your wheel. From there, you can access many different features of your Buick.
How to Set Up Voice Recognition
Your Buick Infotainment System comes with a touchscreen device. You can use touchscreen controls when it's safe to do so, and many times a passenger will more safely control this portion of your drive. However, when the driver wants to do something like make a phone call or text someone, they can activate the voice recognition button on their steering wheel.
Look for the voice recognition button on your steering wheel
Once your vehicle is started, the system is initiated
Press the button
Now your entire social world is open to you through voice recognition. Buick recommends using simple commands, as the system does not yet know how to translate and obey complex sentence commands (although that will be something to look forward to in the future). A good example of a commonly used command is, "Call mom at home," or "Play (song you want to hear)." These simple commands are easily understood by your system and will prompt the system to do what you want. Another common command is to ask for "directions." Simplicity is best when talking to your Buick.
More Information about Voice Recognition
We realize that these instructions were kept simple for brevity, but you may have more questions about Buick voice recognition systems. If you're new to auto tech, it's especially important to understand how to operate your new high tech features. You can contact our dealership for more information about how to properly set up your voice recognition features on your Buick infotainment system. If you need more hands-on help, you're welcome to stop by. We can even show you how to activate your voice recognition commands in person right here at our dealership. Call us today for more info.