Amazon Continues Its Wave Of Delivery Innovation
Amazon has introduced us to everything from drone deliveries to same-day deliveries via a variety of outlets. And now, they're introducing something of even more interest to GMC owners: In-vehicle delivery. It's straight from the warehouses of Amazon.com to the back of your GMC vehicle, courtesy of the Amazon Key. That's the big announcement from Amazon and GMC, both of whom worked very hard to make this innovation possible. Not only will it allow you to have another avenue of getting your important packages, but it will enable you to avoid the dangers of having parcels left out on your front porch while you're away from home. We've all heard horror stories about packages being stolen from porches, so with in-vehicle delivery, you have a safe roof and environment for your package.
Amazon Delivering Directly To GMC Vehicles
The aforementioned Amazon Key gives Amazon delivery personnel the ability to deliver directly to your GMC vehicle. This service will be provided at no additional charge, but you're going to have to meet a few requirements before you're eligible for this type of delivery. First things first: You have to own an eligible GMC model. As it turns out, this means that you own a 2015 or later model of GMC vehicle, you'll likely qualify for the service. Remember, though, not all models are eligible, so it's important to check to make sure that you're going to be one of the lucky folks who can take advantage of this service.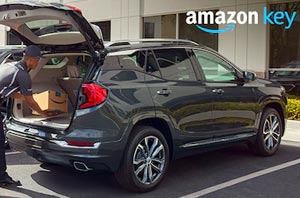 Another stipulation is that you must be an Amazon Prime member, so if you're a GMC owner who is eligible, make sure to sign up for Amazon Prime if you want to take advantage of this service. Finally, your zip code will have to be eligible for in-vehicle delivery as well. Not everyone is going to fall in one of those lucky areas, so be sure to check.
.
Installing Amazon Key on your phone is going to be super easy. That's your last detail that you must take care of before engaging with this service. Amazon Key makes it easy for you to set up your delivery and keep track of it. Most importantly, though, you're going to have an advantage over folks who have front porch delivery and might have packages exposed to open air or theft. It's a safer, easier way to do business with Amazon.com and it is going to be a real treat for you GMC owners out there who are eligible! Keep in mind you also need a an active connected service plan such as GMC Connected Access in order to make these types of deliveries happen. Yes, there's a lot to investigate, but if you're eligible, you're all set!
See If You're Eligible Today
If you're a GMC owner and want to see if you're eligible, it's time to make it happen! This service will of course be expanding in the coming years to include more GMC models. For now, in-vehicle delivery is available on select 2015 GMC models. Call us today to find out if you're eligible for this service.