When's the last time you had your vehicle's tires rotated or the air pressure checked? If it's been a while, then it's time to make an appointment for tire service in Scottsdale. Having a certified GMC service technician assess your vehicle's tires is key in ensuring they are properly inflated, show uniform wear and are safe to drive on.
Alternatively, if you've been keeping up-to-date with routine maintenance but happen to be experiencing some odd tire issues, it's also important that you pay us a visit to have the problem repaired right away.
"Why Are My Tires Wearing on the Inside?" and Other Tire Problems
Most tire issues--including problems with the wheel alignment--can be visually detected, which means it's important to keep a close eye on your tires. If you notice any of these signs of tire wear or damage, it's recommended that you avoid driving and seek tire repair near me as soon as possible:
Abnormal tire wear
If your tires have patches of wear or they are only wearing in select areas like the inner or outer edges, it's time to have your wheel alignment adjusted. Other signs of misaligned wheels include vehicle pulling and an off-center steering wheel.
Low tire tread
Are your tires starting to look bald? Grab a penny and stick Lincoln's head upside down in the tread. If you can see the top of his head, it's time to purchase new tires in Scottsdale.
Low tire air pressure
You just filled your tires up last week, but your tire pressure monitoring system light has turned on again. This usually points to an air leak, which will need tire repair near me right away.
Damage to the sidewalls
If your tires start exhibiting signs of severe sidewall damage, including cracks, cuts or bubbles, visit our tire shop near me right away! Tires with this level of damage in are immediate danger of blowing out.
Vibrations while driving
While vibrations can't be seen in the tires, you'll definitely feel them in the seats and steering wheel while you're driving at high speeds. This often means one or more of your tires are out of balance.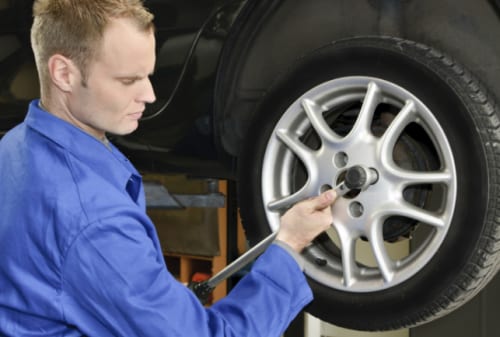 "How Often to Rotate Tires?" and Additional Tire Service Information
While tire wear is inevitable, it can be better managed by receiving regular tire service in Scottsdale! In fact, routine tire inspection, as well as rotation and balance, can help you get thousands more miles from your new set of GMC tires. Plus, routine maintenance makes it easier to detect problems before they become dangerous.
Wondering when to receive tire rotation and other services? Follow this handy chart:
Tire rotation and balance:
This can depend on driving conditions and other factors, but GMC recommends receiving this service every 7,500 miles.
Wheel alignment checks:
If you stick to paved roads and highways, have your wheel alignment checked once or twice a year. However, driving on bumpy, unpaved trails may require more frequent inspections.
Air pressure monitoring:
Tires lose air pressure over time, so it's important to check them at least once a month to make sure the PSI is correct. This can be easily performed at home with a portable gauge.
Purchase GMC Tires at a Tire Shop Near Me
Is your vehicle ready for new tires in Scottsdale? Van Buick GMC is a leading tire shop, offering some of the best brands on the market! From Goodyear tires and Michelin tires to Bridgestone tires and off-road tires, we've got a great variety to choose from.