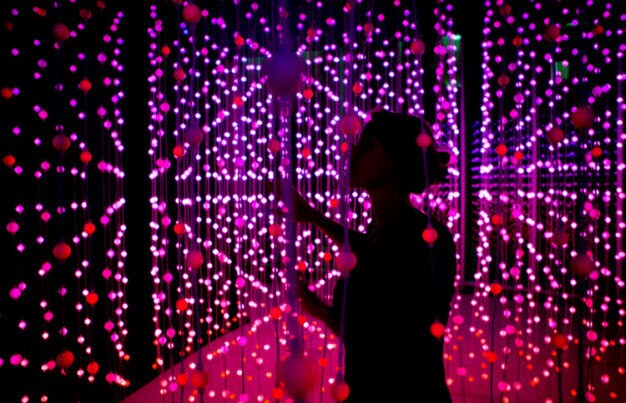 This summer, take a break from the heat and check out one of the coolest spots in the Valley: the Scottsdale Museum of Contemporary Art. This local gallery hosts some of the best and most talked-about modern art in the world, and its latest installment, "Ocean of Light: Submergence," is no exception.
As its name suggests, "Ocean of Light: Submergence" is an interactive, walk-through exhibit that utilizes light-based data visualization to create what truly feels like an "ocean of light." With over 8,000 LED lights suspended at different points, this immersive experience places visitors in an augmented reality in which they are free to explore the relationship between virtual and physical space.
Through each 12 minute session, visitors will be taken through a gradual, captivating narrative, which utilizes visual and aural elements to heighten the senses and build tension. At the end, the thrilling climax is sure to mesmerize each and every viewer who makes their way through the exhibit.
"Ocean of Light: Submergence" is on display from now until Sept. 24, 2017, and can be seen Tuesday through Sunday. Museum hours and admission costs vary, so be sure to check SMoCA's website before visiting.
About the Artists
"Ocean of Light: Submergence" hails from U.K.-based collective Squidsoup, an international group of artists, researchers, technologists and designers that are known for their interactive digital media experiences that place viewers in an active role. Anthony Rowe, Gaz Bushell, Liam Birtles, Chris Bennewith and Oliver Bown are the main members of the collective.