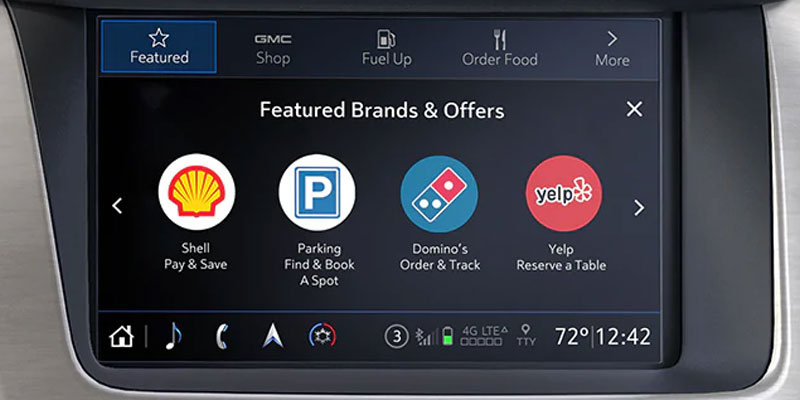 Shopping for a new vehicle right now provides you with some of the most innovative technology around. GMC is ensuring that their customers are happy and connected thanks to the GMC Marketplace app. This is a program that allows you to complete transactions while in the comfort of your vehicle. Some of the most commonly-used merchants in the U.S. participate with this app.
Gas stations like Shell and Exxon Mobil allow you to purchase your gas and control the pump from your vehicle. You can pick up food from places like Applebee's and Domino's Pizza without having to leave your vehicle to pay or pick up your food. It doesn't take long to learn how this app functions. A few quick taps of your infotainment screen is all it takes.
Setting Up GMC Marketplace in Your Vehicle
The GMC vehicles that come with GMC Marketplace technology were made in the year 2017 or more recent. Most vehicles will come with the app already installed. If you don't find it on your home screen, you can easily set it up through an app store. Once you see the 'Get Started' screen, you're on your way. Read through the terms and conditions before tapping the accept button.
Enabling notifications from your vehicle allows you to place your order and process payments properly. Any of the settings that you select during this time can be changed later on from the main menu. Once the initial setup process has been completed, you can learn how to navigate the GMC Marketplace by clicking on the various menus and merchants on the home screen.
In addition to using your GMC Marketplace App to make purchases for food and fuel, you can also secure a parking spot and pay for it before you get to where you are headed. This is thanks to a partnership between GMC and ParkWhiz. Priceline also participates in GMC Marketplace, allowing you the convenience of booking a hotel room while you are on-the-go. Don't forget to check for any GMC discount that may be available to you. Other merchants frequently have offers that you can utilize as well. If you would like more information on GMC Marketplace or need help setting it up, you can contact Van Buick GMC for assistance.