A partnership between Buick and ExxonMobil could be one of the best things that these two companies have ever done because of the the potential money and time savings at the fuel pump. With over 11,000 ExxonMobil stations across the nation, there are plenty of places where you can take advantage of this. ExxonMobil has upped their game on this offer, and it has made car buyers even happier.
How Does it Work?
Truthfully, it's the first fully embedded in-vehicle gas payment system, and this eliminates the traditional steps that you'd take otherwise with fuel payment. This brings fuel functionality right to the touchscreen of the vehicles. Drivers will have easy access to the SpeedPass+, which allows them to securely pay for their gas even while inside the vehicle. What happens when drivers don't automatically have a SpeedPass+ app account? They can enroll automatically, and this will let them locate the nearest Exxon fuel stations and pay for fuel securely through the app. ExxonMobil has continued to look for methods that they can improve their servicing with customers.
Bringing You Greater Simplicity and Savings
Instead of having to run inside or paying for fuel at the pump, you simply pay right from the car. This makes things easier and more secure. When you do it via an app, you eliminate potential safety issues from paying the traditional way. This partnership works with Buick, but it also works with other cars from the GM brand including:
How Do You Save Money with This Program?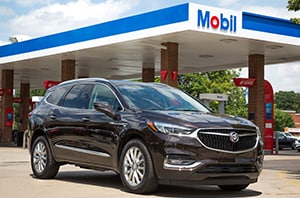 As you pay for gas, you will accumulate rewards, which is where the savings come in at. The rewards accumulate from the touchscreen, and you don't have to worry about exposing your credit card information. This lets you pay for fuel much faster, and this becomes the first fully-embedded in-vehicle fuel payment system. As of right now, two million vehicles have this type of functionality from 2017 to 2018, but experts estimate that those numbers will reach four million by the end of 2018. The convenience of this technology is what separates it from many of the others on the market.
How are Everyday Tasks Made Easier?
The ultimate aim behind society has been to make it ever-easier and ever-more convenient for customers. The technology even identifies the pump number, and it lets you choose the preferred payment method as well for the best results. As you earn rewards, you can redeem the rewards to receive free car washes, and this is the new loyalty program that they have launched recently.
ExxonMobil has become the first big oil company that has allowed for this new system. Along with opening the account, we can probably expect that this system will continue to advance and grow better. You can also use this system on your mobile phone if wanted. However, it looks twice as cool using this system right from the touchscreen of the car to identify the closest gas stations and proceeding with it in this way. Fueling up is obviously an essential part of owning a car, and this gives drivers a new way that they can gas up their vehicle at their own convenience. This new technology will most likely change the way that everyone thinks about their everyday tasks, and it builds on the technology in an interesting way.
Come into our dealership if you'd like more information on this innovative technology and for a test drive.