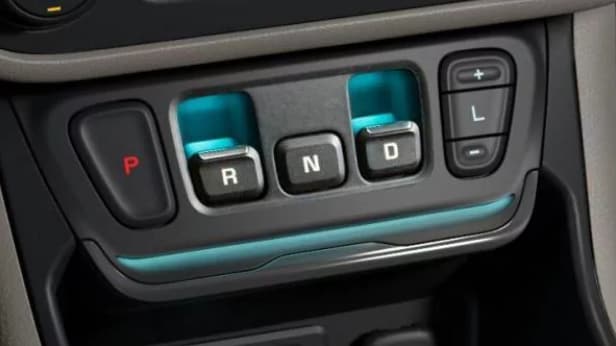 The 2018 GMC Terrain has been completely redesigned for the new model year, showing off sleek new styling, added tech and safety features, and an updated roster of powertrains.
However, one change that may come as a surprise to GMC fans is the crossover's new Electronic Precision Shifter, which replaces the traditional gearstick with a set of buttons. Continue reading below to learn more about this system!
How Does the Electronic Precision Shifter Work?
On first glance, the new shifting system looks a bit complicated. However, when you visit us to test drive the 2018 Terrain, you'll find that the system is highly intuitive and very easy to use. In fact, many customers actually prefer it to the traditional gearstick!
The drive and reverse functions are easily distinguishable from the rest, utilizing tab-style switches to prevent drivers from accidentally making the wrong selection. Whether you're backing up or pulling out, simply pull on the corresponding switch.
Putting your vehicle in low, neutral or park is as easy as pushing a button. A helpful thing to remember is that the system follows the traditional "PRNDL" layout, so the park button is the one closest to the driver.
What Happens If I Make the Wrong Gear Selection?
GMC implemented a number of safety precautions into the Electronic Precision Shifter. Like with a traditional automatic gearshift, the brakes must be applied before the crossover can shift out of park. Also, if a driver forgets to put the vehicle in park and goes to shut it off, the system will automatically shift into park.
In order to shift into park, the vehicle must be going less than 3 mph. Shifting to reverse also follows similar protocol, as it can only be activated if the vehicle is travelling at less than 6 mph. This way, drivers who happen to hit the wrong button are at a low risk for incurring any vehicle damage or physical injury.
Why the Change?
By utilizing a push-button system, GMC was actually able to reconfigure how the transmission is set up, resulting in less cabin noise and smoother acceleration. Additionally, moving the shifter to the center stack freed up quite a bit of storage space in the area between the driver and passenger seats, giving drivers more space for their belongings.